I can honestly say that Gleim is the reason that I have a CPA today. It is one of the most affordable review courses and yet still one of the most comprehensive and thorough review courses available to CPA candidates. It will cover every possible topic that may show up on the CPA exam. The best part is that it is thousands of dollars more affordable than the overpriced Becker Review System:

Becker Complete Bundle = $3,393.00

Gleim Premium 2017 (with CPA Exam Guide 10% off promotion) = $1,439.10

Gleim Traditional 2017 (with CPA Exam Guide 10% off promotion) = $1,169.10

$2,000 less and yet Gleim gives the same guarantee and provides a similar level of quality
An interesting fact about Gleim is that most accountants have learned from Irvin Gleim. So have most pilots. CFII is the Federal Aviation Administration's (FAA's) acronym for Certified Flight Instructor - Instrument. Thus, the same person who authors the most widely used, self-published accounting certification exam review books is also authorized to teach you how to fly an airplane. Since earning his doctoral degree in accounting from the University of Illinois in 1971, Dr. Gleim has been involved in the development of CPA review courses. Writing his own review manuals for accounting certification exams was a natural extension of his proclivity for teaching.

The Fisher School of Accounting at the University of Florida recently had this to say about Dr. Gleim:  "Dr. Gleim is an innovative force in the field of accounting not only through his teaching and research, but also through his professional exploits as a self-made publisher. Dr. Gleim has published training manuals for budding accountants that became the field's authoritative learning tool for accounting students. Dr. Gleim, President of Gleim Publications, Inc., self-published his first CPA Review book in 1974, and now has more than 200 titles to his credit providing accounting students the richest, most in-depth material for CPA, CIA, CMA and EA exam preparation." 


Disclosure: Please note that some of the links below are affiliate links, and at no additional cost to you, I will earn a referral fee if you decide to invest in a course listed below. Please understand that I have personal experience with all of these courses, and I recommend them because I know that they will help you do the same, not because of the small commissions I make if you decide to buy something. Please only use my links if you feel that I have helped you in your review course decision! Also note that the coupon codes listed on this page may or may NOT have an expiration date. However the coupon codes offered are constantly changing so assume they won't be available forever.
Gleim has always provided a comprehensive set of CPA study books, along with audiovisual videos and an online course, that correspond with the vast number of multiple choice questions from their online Test Prep system and practice exams. 

In 2017, Gleim now offers over 10,000 multiple choice and hundreds of advanced simulations at your disposal you will be more than ready to pass the CPA exam on your first attempt.

Additionally in the 2017 Gleim Premium CPA Review Course Dr. Gleim now offers video classroom lectures for all four sections of the CPA exam and still maintains it's very competitive price. 

The latest features to be included in the 2017 version of Gleim's CPA review course include the following (taken from Gleim website):
Updated content for any changes that have occurred since 2016

100+ video lecture hours

Adaptive Learning
Gleim also added an adaptive learning function to their practice quiz dashboard which will identify multiple choice based on your weakenesses.

Here is a screenshot of how this technology works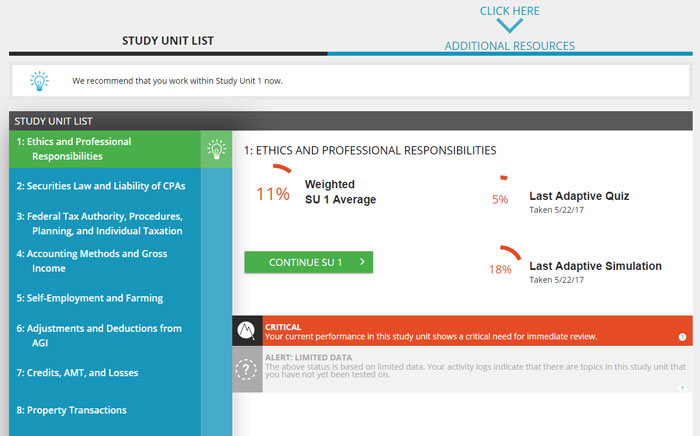 Obviously I didn't want to just take Gleim's website update at face value, so I obtained access to their 2017 course and took a look at the new course features for myself.

I took screenshots of my walk-through of the new course and I share my thoughts below.

You can also try Gleim CPA Review out for free with their trial linked below

Gleim CPA Review Free Trial


After logging into Gleim CPA's website, I was greeted with a very intuitive dashboard that lays out my study plan based on the dates that I set to sit for the CPA Exam.
Study Process - Learning + Testing + Performance
Each sub-unit within Gleim contains a snippet of the text in digital format, a video lecture / audio lectures and an opportunity to take homework quizzes to test your knowledge.

The final step is to review your performance which will give you an your average score and a recommendation for whether you need to study more.


Gleim Video Lectures
I found the 2017 video lectures for all four sections to be very professional recorded.

They included walkthroughs of multiple choice questions and case studies to help you understand the material.

If you have trouble paying attention to power-point presentations, then watching these videos will be the key to you staying focused.
Gleim Audio/MP3 Lectures
A newer feature of the Gleim CPA review course is the option to listen to lectures on your mobile. I found this to be incredibly useful for accountants with long commutes every day.

You can either download it to your device for later use or stream the audio via a live internet connection.

Learn more here about Gleim Audio
Gleim Exam Rehearsal
One of the best features of the Gleim CPA review course is the Exam Rehearsal Mode. This feature is about as close as you can get to taking the actual CPA exam. 

Dr. Gleim and his team have created an almost exact duplicate of the feel of the Prometric center's exam setup. This can be valuable for you as you take practice exams because you will be able to navigate the CPA exam without any surprises.
Final Thoughts
Where Gleim really shines is on its sample CPA questions. They give you a bank of over 10,000 questions and several sample exams for you to take prior to taking your next section. So while they probably go into too much detail in their material, you can take comfort in the fact that if you complete the Gleim system there will be NO surprises while taking the CPA Exam.

The best aspect of the Gleim review system is that if your firm supplied you with Becker, but you feel you need some additional test questions you can purchase the test prep software individually for each part for a little more than a hundred dollars, which gives you access to over thousands of extra questions for each part. 

I personally used these test banks to pass the CPA exam so I can't speak highly enough about them. 

These questions can be used immediately and can be purchased from the Gleim Website linked below:

Gleim CPA Review Course Pros & Cons
Gleim has auditory learners and self-studiers covered
Best Analytics
The best CPA question analytics and Simulation wizard in the industry
Textbook
Expansive Study Materials that more than prepare you to sit for the CPA exam.
Study Planner
Built in study planner to help you stay on schedule
Multiple Choice
Over 10,000 multiple choice and simulations and Gleim's new adaptive learning technology is now included.
Personal Counselor
A personal counselor is assigned to you to assist you in your CPA exam journey (Premium Only)
Unlimited Access
A new, Access Until You Pass Guarantee (Premium only)
Video Lectures Beta
Video lectures are still in beta, they don't have side by side lecture and text yet similar to other review courses. 
Materials
The Gleim materials are so extensive that they cover literally every possible topic you could encounter. This can make it harder to identify which areas to focus on.



No Flashcards
Flashcards are not available (as of 1/12/16)
My Suggestion:

If you want a competitively priced CPA Review course with video lectures, Gleim is the course for you!  

Their new Premium Course is one of the most improved review courses of 2017 in my opinion, so I highly recommend that you try out their free trial. I used Gleim when my Becker expired, and I can guarantee without the help of Dr. Gleim I would not have been able to pass FAR or AUD.


NOTE: If you are still unsure how you learn best and whether Gleim CPA Review 2017 is absolutely the best course for you I would be glad to assist you in your decision:

My email: [email protected]
Or head back to my Top 10 Comparison page here or Discounts Page here


Written by:

Bryan Kesler, CPA