July 23, 2017
Bryan Kesler, CPA
If I had to retake the CPA exam again (heavens forbid!) then I would without a doubt choose Wiley CPAexcel Platinum Review Course. 

But here is the thing... 

I am a bit of a techy nerd who doesn't have issues learning how to use somewhat complex software. 

Based on my experience using their software, mobile apps, the Wiley online test bank, and printed/electronic flashcards, Wiley CPAexcel helps you study smarter and efficiently once you have figured out how to use their software and how everything works together...  

However, with the option to study on your tablet, phone, or computer, Wiley CPAexcel 2017 makes it an extremely versatile review course, which guarantees you will pass the CPA exam and will not expire until you do so.

Note that Wiley CPAexcel currently offers 3 packages: Silver, Gold and Platinum. I was given full access to their Platinum Course which is what I will be reviewing below.
Disclosure: Please note that some of the links below are affiliate links, and at no additional cost to you, I will earn a referral fee if you decide to invest in the course listed below. Please understand that I have personal experience using Wiley CPAexcel, and I recommend them because I know that they will help you, not because of the small commissions I make if you decide to buy something. Please only use my links if you feel that I have helped you in your review course decision. Also note that the coupon codes listed on this page may or may NOT have an expiration date. However the coupon codes offered are constantly changing so assume they won't be available forever.
Wiley CPAexcel Best Features & Discounts Below:

CPAexcel Video Review & What You Get

Wiley CPAexcel Dashboard, Study Planner & Organization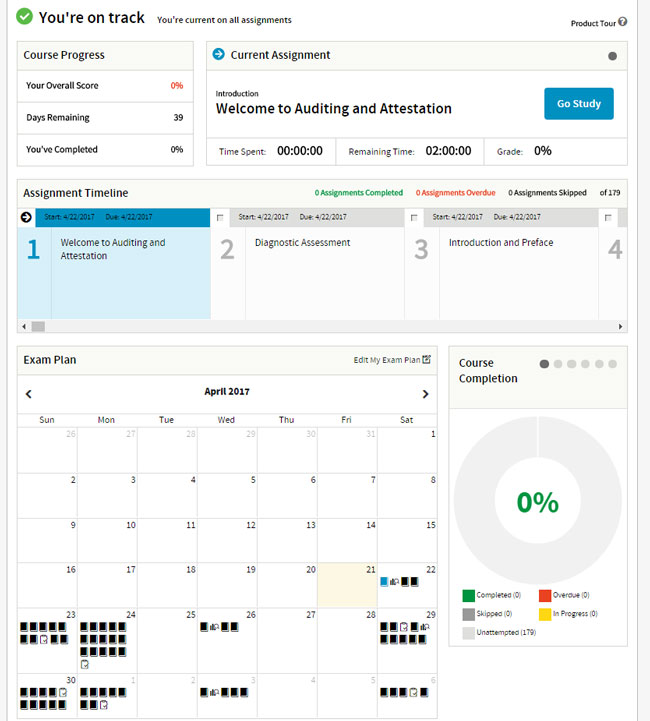 When I first logged into Wiley CPAexcel 2017, I was greeted with a comprehensive study dashboard that laid out the entire plan for my study schedule. I appreciated how automated the study planner was and how easily customizable it was as you will soon find out that delays are inevitable as you begin studying. 

For each section you will be given a lecture, the corresponding study text, and then exam questions for you to answer. 

Additionally you will be given the slides from the lectures, more multiple choice questions to test your proficiency, electronic flashcards and then access to the CPAexcel Mentored Discussion forum.
---
Wiley CPAexcel Weekly Promo
FLASHSALE: Check out Wiley CPAexcel's Flashsale of the Week by clicking the orange button

*Access Your Discount Before Time Runs Out*

---
Wiley CPAexcel Multiple Choice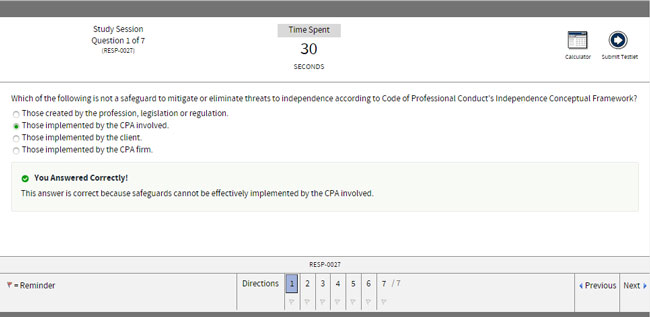 Between the CPAexcel and the Wiley Multiple Choice Test Banks, Wiley CPAexcel now offers one of the most comprehensive multiple choice and simulation databases for you to utilize. 

With over 12,000 multiple choice questions at your disposal and comprehensive explanations and analytics tracking, you will be more than prepared when it comes time to sit for REG, FAR, BEC, and AUD!

With literally a dozen ways to split your data, you can be confident in knowing PRECISELY where to spend your time based on your current performance.

You will be hard pressed to find a better multiple choice test bank anywhere.
Wiley CPAexcel Multiple Choice Analytics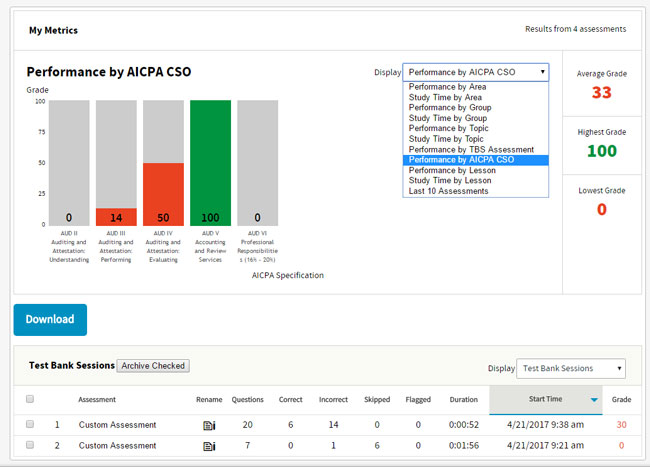 The cornerstone of any CPA Review Course is their multiple choice analytics.

The CPA exam is way to broad to figure out EXACTLY where you are struggling and should be spending your time studying.

CPAexcel makes this easy once to figure out what data to breakdown.

They take your historical multiple choice results and allow you to dissect the data almost a dozen different ways.

This allows you to determine in real time which topics you need to focus on more studying and which topics you seem to understand well enough.

You would be hard pressed to find better analytics in the CPA review course industry.

Try Out The Wiley CPAexcel Analytics Here
Wiley CPAexcel Simulatons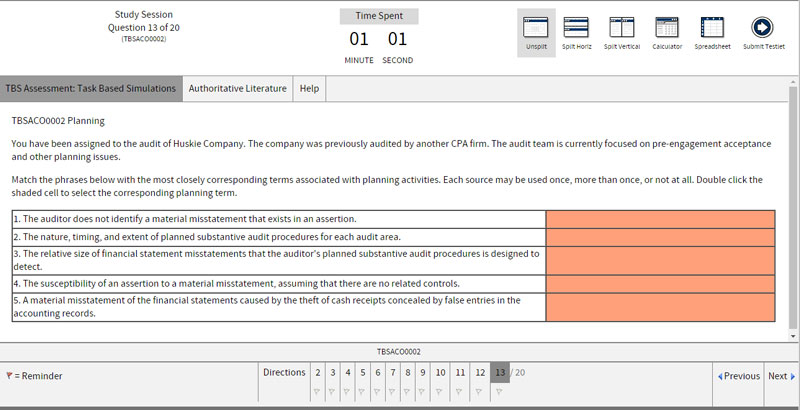 Wiley CPAexcel has a comprehensive database of hundreds of simulations for you to test yourself.

The format is very similar to what you will see on the real exam.

They give you the research tool, calculator and excel spreadsheet to utilize during your practice exams as well.
Wiley CPAexcel Video Lectures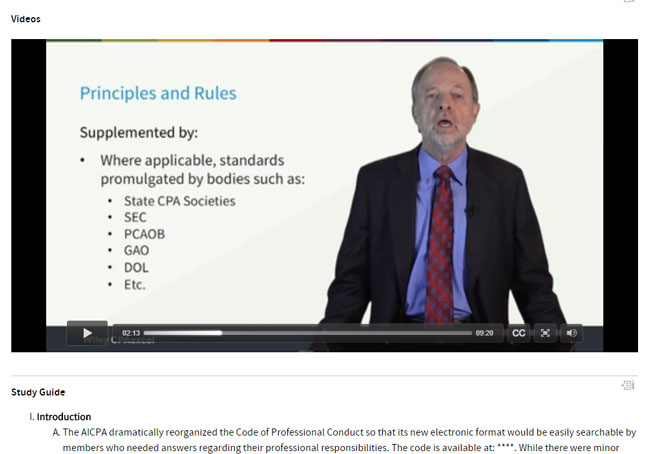 Are you someone with a short attention span who would dread the idea of watching a 3+ hour long lecture?

Wiley CPAexcel has your back with their bite-sized lectures which are no longer than 20 minutes or so.

As with all review courses there were a few flaws that I found with Wiley CPAexcel 2017. The first being that while the lectures are short, the professors that have been hired are a bit dry in their presentation compared to some of the other review courses I have reviewed. 

I also found that there is a learning curve to figuring out all of the features that Wiley CPAexcel 2017 has to offer. If you are not very technologically advanced then plan on spending an hour or two figuring out how everything works and how it's organized.

Watch Wiley CPAexcel's Bite-Sized Lectures Here
Wiley CPAexcel Flashcards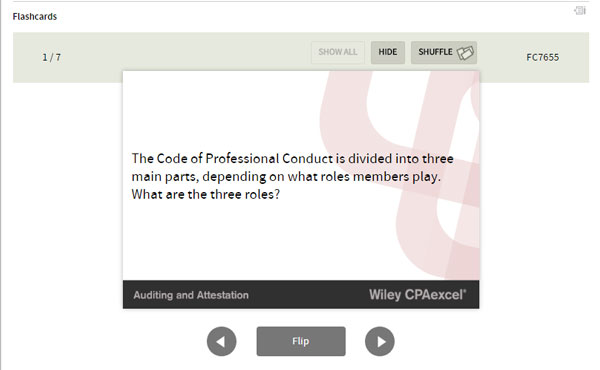 A strength I found regarding Wiley CPAexcel is the fact that they offer flash cards that can be used anywhere.

I would not be a CPA today if it wasn't for flash cards, so the fact that Wiley CPAexcel offers both electronic and printed flash cards is a huge selling point for me. 

If you are interested in the Wiley CPAexcel printed flashcards go here




Included in the Platinum version you will also receive a separate Online Test Bank which is perfect for using during your final review AFTER you have completed the video lectures and other primary content.

This test bank of questions is also perfect for folks who have failed a section of the CPA exam and just need some fresh multiple choice to get back in the game.

Included in the test bank are comprehensive analytics, detailed explanations for answers, and over 4,500+ multiple choice and simulation questions.

As a standalone product you would also receive 12 months access or if you invest in the Platinum course you would receive lifetime access until you pass to the test bank.
---
Wiley CPAexcel Weekly Promo
FLASHSALE: Check out Wiley CPAexcel's Flashsale of the Week by clicking the orange button

*Access Your Discount Before Time Runs Out*

---
Wiley CPAexcel Customer Support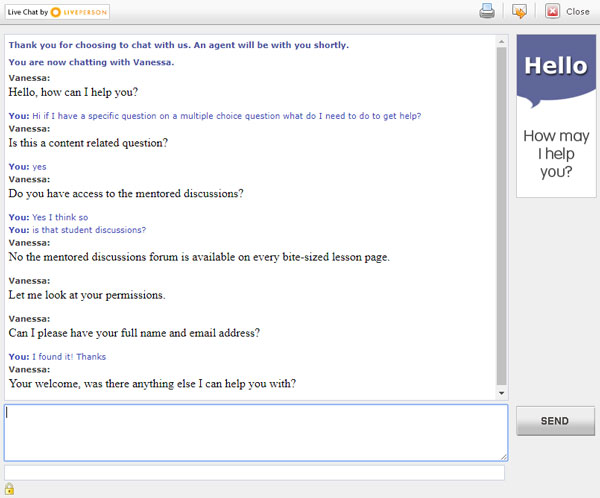 In terms of customer support, Wiley CPAexcel offers 3 primary options.

The first is a live chat (pictured above) where you can ask technical support questions about your course software etc...

The second option is "Student Discussions" which is a forum for students to interact with each other.

This is more of a basic forum where you won't necessarily get help from a Wiley CPAexcel support member.

Finally and most important is your Mentored Discussion Forum. Each bite-sized lecture has it's own forum thread that is moderated by accounting experts who work for Wiley CPAexcel. (see picture below)

The mentored discussions obviously aren't as instanteneous as the live chat but at least you know that you will receive a quality answer even if it takes a day or two.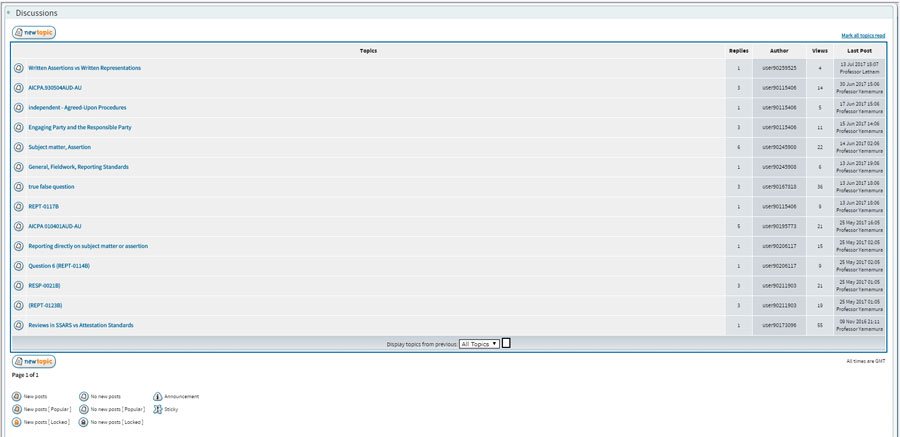 Which Wiley CPAexcel Course Package Should You Choose?

Wiley CPAexcel has 3 primary course packages for you to choose that are put together with different types of CPA Candidates in mind.

Platinum Course - This is by far the most popular course and will work for the largest % of CPA candidates but is obviously the most pricey because it includes the most features and study materials.

Gold Course - The biggest advatage of the Gold Course over the Silver is the personalized customer support from accounting experts.

There is no reason to spin your wheels while studying and the ability to outsource your questions is crucial which absolutely makes the Gold package a huge improvement over Silver.

Silver Course - This is the ultimate self-studier package for anyone who wants to lock themselves in a room and teach themselves everything. It may be the "bare bones" package but it still packs a punch by including the majority of the features offered by Wiley CPAexcel.

Compare all the different packages below to determine which will work best for you:


| | | | |
| --- | --- | --- | --- |
| Course Package | Platinum CPA Review Course | Gold CPA Review Course | Silver CPA Review Course |
| Pricing Per Part | $825 | $625 | $575 |
| Complete Set (Before Discounts) | $2,450 | $1,850 | $1,700 |
| Partner Until You Pass Guarantee with free online content & courseware updates until you pass | | | |
| Online Course Study Materials with text, 7,500 exam questions, 110+ hours video instruction, 450 task-based simulations, 4,000+ digital flash cards and more | | | |
| Efficient Learning System with bite-sized lessons, exam planner, discussions, unlimited practice exams and more | | | |
| Study Guides map perfectly to the lessons in the courseware (print and ebook included) | | | |
| Companion Mobile App | | | |
| Professor Mentoring with online support from subject-expert professors | | | |
| Virtual Classroom Series with live, online instruction and support | | | |
| Online Test Bank with additional 4,400 exam questions and 160 task-based simulations | | | |
| Focus Notes with acronyms and mnemonics (print and ebook included) | | | |
| Flash Cards to reinforce and improve retention (print) | | | |
| Link To Course | | | |
Wiley CPAexcel Frequently Asked Questions
Q: How Long Do I Get Access To Wiley CPAexcel?
A: What I love about Wiley CPAexcel is that they stand behind their course and will stick with you until you pass the CPA exam. Meaning you have unlimited access to the course and software until you pass. No hidden fees or shenangians like ol Becker CPA Review.


Q: How Does Wiley CPAexcel Compare To Becker or Roger CPA Review
A: Wiley CPAexcel offers very similar content to both Becker and Roger CPA, but it's all about HOW the material is presented to you.

Becker CPA Review focuses more on the LONG lectures to teach you the material. You can compare Becker to Wiley CPAexcel side by side here

Roger CPA Review has the most engaging lectures but not quite as advanced analytics and about half the CPA exam questions offered by Wiley CPAexcel.

In my opinion, Wiley CPAexcel is perfect for self-studiers but can also be used perfectly by folks who like structure and need a class room setting to thrive.
| | |
| --- | --- |
| Wiley CPAexcel Review | Strengths  |
| 1. | 20% OFF Wiley CPA Discount Code |
| 2. | 2017 Ready Software |
| 3. | Bite-Sized Lectures |
| 4. | Multiple Choice Questions |
| 5. | Best Mobile App |