If I had to retake the CPA exam again (heavens forbid!) then I would without a doubt choose Wiley CPAexcel Platinum Review Course 2017. 

But here is the thing... 

I am a bit of a techy nerd who doesn't have issues learning how to use somewhat complex software. 

Based on my experience using their software, mobile apps, the Wiley online test bank, and printed/electronic flashcards, Wiley CPAexcel helps you study smarter and efficiently once you have figured out how to use their software and how everything works together...  

However, with the option to study on your tablet, phone, or computer, Wiley CPAexcel 2017 makes it an extremely versatile review course, which guarantees you will pass the CPA exam and will not expire until you do so.
Disclosure: Please note that some of the links below are affiliate links, and at no additional cost to you, I will earn a referral fee if you decide to invest in a course listed below. Please understand that I have personal experience with all of these courses, and I recommend them because I know that they will help you do the same, not because of the small commissions I make if you decide to buy something. Please only use my links if you feel that I have helped you in your review course decision! Also note that the coupon codes listed on this page may or may NOT have an expiration date. However the coupon codes offered are constantly changing so assume they won't be available forever.
Wiley CPAexcel VS Becker CPA
The majority of CPA Exam Guide viewers who email me are stuck between Wiley CPAexcel and Becker. After personally using both courses, I hands down recommend Wiley CPAexcel over Becker for the following reasons.
Lectures - Becker focuses on long drawn out lectures (1-3 hour +) while Wiley CPAexcel breaks up their lectures (15-30 minutes). To me this is a better method because you are constantly learning, then performing questions, and then reviewing which is less time you will be tuning out and losing focus.

Price - Becker spends all of their money on marketing and then passes the price on to its students, which I don't think is fair. Wiley CPAexcel is literally half the price and yet their course is just as effective and in my opinion more efficient. (be sure to check out my discount page to ensure you are getting the best discount for Wiley CPAexcel)

License Time - Becker only gives you 12 months to pass the CPA exam before they require you to jump through hoops and pay to renew your license. Wiley CPAexcel is so confident that their course works, they give you truly unlimited access until 1 year after you pass the CPA exam. One less thing to worry about right!
The biggest changes made to the 2017 Wiley CPAexcel course were as follows:
Added 7 hours of additional "Deep Dive" lectures for FAR to assist you in focusing on the most tested topics.

Added 2 hours of additional "Deep Dive" lectures for AUD to assist you in focusing on the most tested topics.

More tables and graphics to aid understanding of the content and organize the information are used in the video lectures

Updated Mobile app for Android and iPhone that syncs with your computer software!
An interesting fact about Wiley CPAexcel is that they were recently acquired by Wiley and even more recently aquired Kaplan CPA Review Course. Wiley is one of the leading producers of CPA exam multiple choice questions and coupled with the efficient study plan utilized by CPAexcel, they have created a powerful CPA review system that will rival any of the other systems currently available. Per Rahul Srivastava, President of CPAexcel, CPAexcel will continue to offer their superior review course program and students should only expect great improvement in the future with the merging of CPAexcel and Wiley.

To learn more about Wiley CPAexcel, I interviewed Dr. Greg Carnes, Dean of the University of North Alabama College of Business. Dr. Carnes is the head writer of the REG materials and the star of the bite-sized video lectures. Here is a snippet of our conversation:


If you are a studier who hates long lectures and needs to be able to study on the road then Wiley CPAexcel is for you! With its mobile and tablet apps and easy to use computer interface, you can use Wiley CPAexcel 2017 anywhere. 

Additionally with the bite size lectures you can spend more time reviewing your text and performing multiple choice questions and not watching methodical lectures. 

If you would like to try out a free trial of Wiley CPAexcel, please follow this link their website to sign up: Wiley CPAexcel Free 14 Day Trial
After spending several hours reviewing Wiley CPAexcel 2017, I found that what makes this course really shine is its efficient study plan and multiple choice database.

By breaking up the lectures into 5-10 minute segments it allows you to keep focus as you are going through your material. Instead of watching an hour and a half lecture in one sitting, you are constantly moving between lectures, your text, flash cards and your multiple choice questions and then reviewing what you have just learned.

To me this is the most effective way to study for the CPA exam as it is what I did to pass.
The Dashboard
When I first logged into Wiley CPAexcel 2017, I was greeted with a comprehensive study dashboard that laid out the entire plan for my study schedule. I appreciated how automated the study planner was and how easily customizable it was as you will soon find out that delays are inevitable as you begin studying. 

For each section you will be given a lecture, the corresponding study text, and then exam questions for you to answer. 

Additionally you will be given the slides from the lectures, more multiple choice questions to test your proficiency, electronic flashcards and then access to the CPAexcel Mentored Discussion forum.


Flashcards (Electronic & Printed)
The other strength I found regarding Wiley CPAexcel was the fact that they offer flash cards that can be used anywhere. I would not be a CPA today if it wasn't for flash cards, so the fact that Wiley CPAexcel offers both electronic and printed flash cards is a huge selling point for me. 

If you are interested in the Wiley CPAexcel printed flashcards go here
Multiple Choice Database
Between the CPAexcel and the Wiley Multiple Choice Test Banks, Wiley CPAexcel now offers one of the most comprehensive multiple choice and simulation databases for you to utilize. 

With over 12,000 multiple choice questions at your disposal and comprehensive explanations and analytics tracking, you will be more than prepared when it comes time to sit for REG, FAR, BEC, and AUD!

With literally a dozen ways to split your data, you can be confident in knowing PRECISELY where to spend your time based on your current performance.

You will be hard pressed to find a better multiple choice test bank anywhere.
Bite-Sized Lectures
As with all review courses there were a few flaws that I found with Wiley CPAexcel 2017. The first being that while the lectures are short, the professors that have been hired are a bit dry in their presentation compared to some of the other review courses I have reviewed. 

I also found that there is a learning curve to figuring out all of the features that Wiley CPAexcel 2017 has to offer. If you are not very technologically advanced then plan on spending an hour or two figuring out how everything works and how it's organized.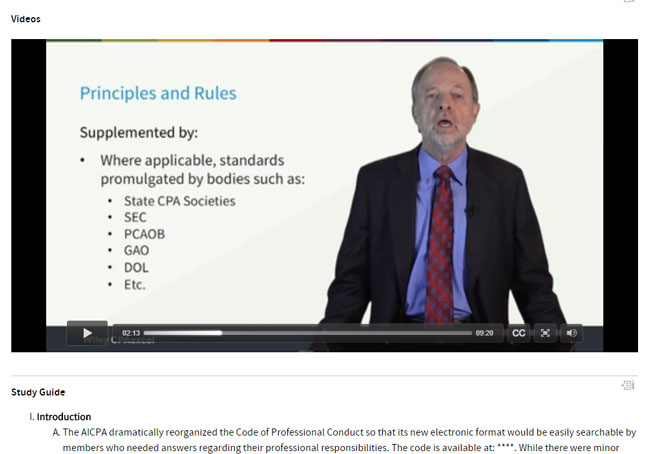 Lectures don't need to be 3 hours long... (this one is only 9 minutes)
License
One of the most stressful parts of when I was taking the exam was worrying about my review course expiring. You already have so much on your plate that the last thing you should be worried about is cramming in your last exam before your review course expires. 

This is where I think Wiley CPAexcel is ahead of the curve by the fact that they stand behind the effectiveness of their review course so much that they will give you unlimited access for up to a year after you pass the CPA exam. This is unheard of in the review course industry! 
Final Thoughts
Wiley CPAexcel Platinum Review Course is the most expansive review course that I have tested. One improvement that I did notice was missing was that there is no connection yet between the Android/iPhone Mobile Apps, Wiley Study Guides and CPAexcel Course Outlines. I fully understand that Wiley and CPAexcel just merged last year, so I hope that they can provide some better directions for how students should utilize both review courses in an efficient manner. In the meantime it seems a little bit messy to keep track of three separate software programs.

My recommendation would be to tackle the Wiley CPAexcel bite-sized lectures first and then utilize the Wiley multiple choice test bank in the final weeks of your studying so that you can have fresh questions to answer to truly test your knowledge.

Read my review of the Wiley Online Test Bank Below  
UPDATE: 1/2/2015

Something that many CPA Exam Guide viewers email me about is how to pick the right Wiley CPAexcel product. 

Wiley CPAexcel offers a Silver, Gold and Platinum version of their review course, and each review course is designed for a different type of CPA Studier.

To help shed some light on the differences between these courses I asked Dr. Greg Carnes his thoughts on how to best identify which product is best for you. 



You can read my further break out of each course product below.

Silver CPA Review Course 
Includes:
* Core Study Materials
* Video Lectures + Slides
* 32GB Flash Drive for offline access
* No Expiration Date

Target Audience:
Motivated individuals who don't need extra multiple choice questions, professional help, or a virtual classroom setting. A great course for anyone who doesn't need all the bells and whistles.