Last Updated Feb. 20, 2018
Bryan Kesler, CPA

21 Best CPA Exam Study Tips and Exam Prep Strategies To Help You Pass The CPA Exam On Your First Try

Step 1: Complete your CPA exam requirements to sit for the CPA exam

Step 2: Send your transcript and application to your state board of accountancy

Step 3: Receive your Notice to Schedule (NTS)

Step 4: Schedule your exams at your local Prometric Center

Step 5: Research and invest in the right CPA Review Course

Step 1: Determine if it fits your career goals.

Step 2: Determine if you are willing to make the time sacrifices necessary to study for the CPA exam.

Step 3: Expect to spend $3,000-$5,000 on your CPA review course and CPA exam fees.

Step 4: Will the chance of failure distract you? Only 20% of CPA Candidates pass without failing.

Step 5: Do you want to make $1,000,000 more over your career? This is the average for CPAs vs non-CPAs

Step 1: Identify Your Study Personality

Step 2: Try The CPA Courses That Maximize Your Learning Strengths

Step 3: Identify What You Like & Don't Like For Each CPA Course

Step 4: Don't Let Price Affect Your Investment Decision

Step 5: Schedule Your First CPA Exam Section

Step 6: Purchase Your CPA Review Course & Start Studying Immediately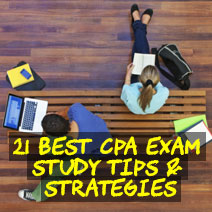 Want to learn the fastest way to pass the CPA exam (without failing)?
Then you are in the right place.
Below you will find the definitive guide to passing the CPA exam no matter where you are in your journey to becoming an accountant.
The CPA Exam is without a doubt the most difficult professional exam. What does this mean for you?
It means you should not re-create the CPA exam wheel when trying to figure out this "beast" of an exam by yourself.
That's why I put together 21 of my most valuable study tips that I learned while taking the CPA Exam.
Quick note, these tips and strategies are not my opinion or what I "think" will work for you.
I know that these study tactics work because I implemented them (and have taught them to thousands of CPA candidates around the world) and saved hundreds of hours of time and thousands in CPA exam expenses!
In Order To Help CPA Candidates Along That Process, You Will Need To Follow These Key Tips & Tricks To Help You Successfully Pass The CPA Exam.